Fairstart's Instructor Educations
Your way of improving childcare systems worldwide
You can still sign up for these educations. Choose an education for information about class start, price, and enrollment.
These are educations that we have developed in collaboration with organisations. They are only open for sign-up by invitation.
Choose an education if you want to learn more.
View a free demo version of the instructor education.
The demo provides you with an overview of how the platform is organized,
how the education is structured, and it gives you a taste of the curriculum and the learning outcomes.
Behind the Scenes
Why - how - what
A tool for professional development
Do you also see the value in educating caregivers to improve the lives of vulnerable children and youth? Do you want to be that person who teaches and inspires children's homes staff or foster parents to be better caregivers? Fairstart Foundation offers you and your organisation Certified Instructor Educations in how to teach our online training programmes – a tool to improve care for vulnerable children growing up in alternative care.
The instructor courses educate organisations and people who wish to train caregivers of children who grow up without their parents. Research shows that children who live with well-educated and competent caregivers, whether in institutions, children's villages, or foster care, experience significantly higher success as adults in both their personal, social and professional lives. Since 2005, Fairstart has been developing complete training programmes that provide caregivers with practical skills and knowledge enabling them to perform the care that at-risk children need. The instructor education is your opportunity to spread and teach this knowledge. You can become an active agent of change!
Do you need more information? Have a look at this article about online Child and Youth Care Education.
Acquired instructor competences
In this exciting learning process instructors will:
Work from research-based principles of attachment-based childcare
Learn how to train and educate groups of caregivers of vulnerable children and youth
Acquire skills in creating better cooperation between caregivers
Contribute to building local professional childcare systems
Cooperate with fellow students and perform peer assessments
Become part of an international instructor community
Be co-designers of their own and others' learning processes
Both instructor students and caregivers are practice designers of their own development, working from a common set of professional principles. The instructor educations will create the foundation for a better life and a future with possibilities for children in group care and foster care all over the world.
The curriculum's structure and content
The Instructor Educations are online-based courses, where eight modules take participants through a unique mix of practical teaching and theoretical learning. The online platform is user friendly and offers a wide range of guides, videos and forums for support, creativity and sharing among students. Within each module, instructor students train a group of caregiver in Fairstart's online training programmes. The education takes 4 months to complete, and the workload is divided between online learning and practical training. Each module takes two weeks and requires 4-6 hours online and 3 hours of caregiver training.
The curriculums comply with European Qualifications Framework at level 5 (practical and theoretical skills management), and your participation will make you an attractive, professional developer of social systems for children without parental care.
Instructor Feedback
Here are comments from our first instructor class hosting people from 8 different countries: Canada, India, Ghana, Spain, Estonia, Indonesia, Denmark and Russia. 100% of the participants indicated that their personal professional development based on Fairstart's Certified Instructor Education has been successful.
"I have learned so much! Not only about training caregivers, but also about cooperating intercultural and about myself and my role as an instructor."
"It does not matter how experienced a trainer one is, there is always much more to learn."
"This education has really helped me to discover the joys of providing training for people and organisations and I am eager to learn more and practice more on it."
"I believe that I can provide training for more people because of this training and I can creatively tailor it to suit other professions and settings related to children."
"I see the theory working in so many different settings, and it gives great sense of confirmation for myself also that I am not trying to "sell" inefficient tools, but that they really help these people and through them we can reach more and more children."
"I realise that by guiding these caregivers to a new understanding of professional care that can improve the care they give the children, I am helping the children."

Online education on edX
Fairstart Foundation is the first Danish organisation to use edX for our new Certified Instructor Education. EdX is a well-established platform for online education designed by MIT, Harvard and Google and is used at universities all over the world. Fairstart cooperates with the IT company Edlab from Aarhus University in creating this advanced education. The unique combination of Fairstart's professional knowledge in childcare and Edlab's in-depth knowledge on learning strategies and technical competences entails that the education offers a professional tool for creating local competences and skills.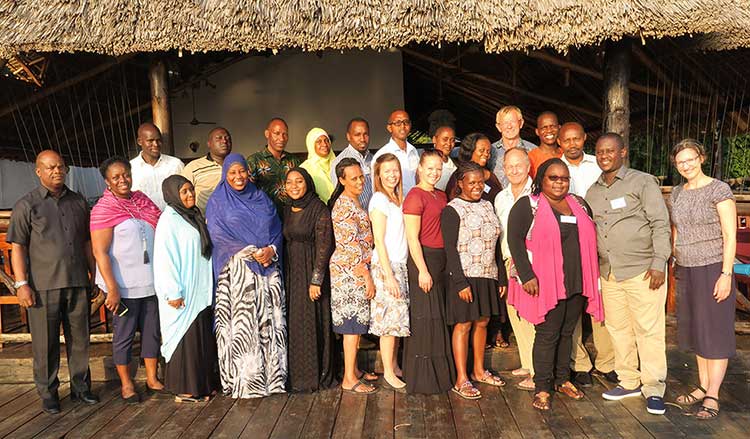 From Fairstart's and SOS Children's Villages' introductory instructor training in Zanzibar, August 2017.