WE HELP THE INDIVIDUAL CHILD, AND WE ACHIEVE OUTSTANDING RESULTS
Convincing results from Fairstart instructors all over the world
The results show that:
The children's well-being has increased: they are happier, more open and secure
Relations between caregivers and children have improved and are now much healthier
Caregivers have become more satisfied and proud of their jobs
The instructors have succeeded in disseminating and transforming attachment theory into practical and identifiable knowledge for the caregivers to use in their daily work with vulnerable children
The caregivers now have a common care standard and methods, which benefit both children and staff
Two Instructors from Estonia and Canada share their experiences from their participation in Fairstart's instructor education.
Jane Snaith from Estonia and founder of Family For Each Child, Estonia.
Catherine Desrosiers from Canada and Director of Association Emmanuel
Certified instructors from Fairstart's international network tell about the remarkable effects of using Fairstart's training programme.
The instructors participated in the first class with participants from Ghana, Estonia, Indonesia, Canada, Russia, Spain, Denmark and India.
Dana Evans, American Instructor living in Russia, shares her experience with teaching Fairstart's foster care program.
Dana is a foster parent herself and has the oversight over several support groups for foster and adoptive parents.
Maria Elena Rodriguez Borrajo from Spain shares her experience from her participation in Fairstart's Instructor Education.
Maria Elena is a Child Psychotherapist working in La Coruña, Spain.
Instructor from India:
Being sensitive has worked wherein one of the care staff shared that, now she was able to understand the aggressive and regressive behavior of one of the child and respond in such a way as "I understand your loss, and I will try to work on it, don't be angry". The care staff said, more of such language is actually helping the child to calm as compared to before. One of the care staff said, "Earlier, we really felt bad when children behaved badly with us, after so much of care, but because of the training, now we are able to understand why the child must be behave in this way. (Can relate more). Another caregiver said, "I have become more observant because of the training, and now I am able to notice small behaviors of children, which did not matter me before."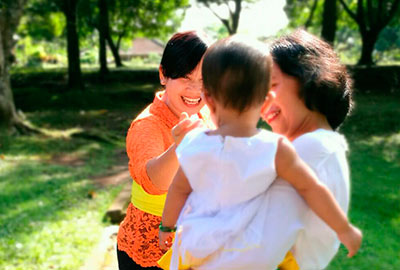 Instructor from Canada:
I think it is very useful to know the five dimensions (five dimensions of secure caregiver behavior, red.). It focuses on the needs of the child rather than focusing on the feelings the caregiver can experience when he or she encounters difficulties with the child. They have been able to connect with their natural strengths as care givers, their own personal stories as children, and to connect with what they should practice more.
It's easier, now than at the beginning of the training. I feel that each training session brings answers, paths to follow, like pieces of a puzzle that assembles one to one!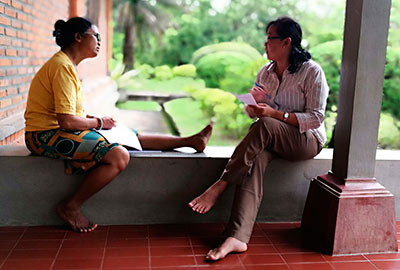 Instructor from Estonia:
They (the caregivers, red.) were happy and pleased, that they could get some practical help to support the children in their care. Many of them came to talk about their concerns after the session, personally. Many problems emerged, that had been boiling under the surface. Sharing your own experiences creates the sense of empathy. Sharing makes you feel secure with your co-workers, otherwise it's difficult to open your heart.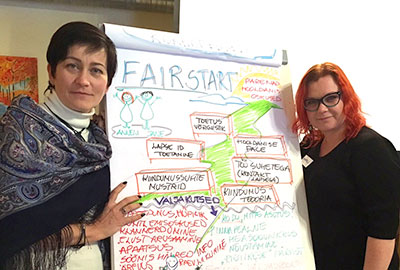 Danish instructor in Indonesia:
Most of them (the caregivers, red.) felt that they could see themselves in the children, they are taking care of, and they recognize the emotional reactions of the children, which makes it easier to relate to the children's behavior patterns. It (the interview about own childhood, red.) makes them realize the similarities between the children's emotions and their own, which makes it easier to handle. They can lean on their personal strengths as professionals.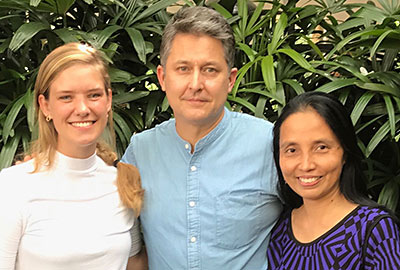 Instructor from Ghana:
The caregivers say they now pay attention to the children and seek them out to talk with them to find out their thoughts, opinions and feelings and also they find out what they think about the decisions that affect them. One caregiver said he called one of the teenagers in his care who was away at boarding school to find out how he was doing and to just simply chat with him and that the boy was thrilled at this. The caregiver said that this was something that he did not use to do but will be keeping up now as a result of the training. They said they realise if they do not ask questions and approach the children and teenagers, they will not open up to them. Also the caregivers said that a cry or call for help or attention from a child is now a priority to them and that it is refreshing to them to know that they fulfil needs in the children simply by being available, accessible and interactive with the children.