Fairstart Foundation will launch a new international online foster care instructor education in January 2018. The education fills a growing need in the foster care systems for a high-quality and low-cost education to improve the life conditions of placed children.
"What we do together makes a world of difference – not only for each child but for your future society"
International Director at SOS CV Denmark, Camilla Torp Olsen about our current partnership in six African countries.
The UN decision to de-institutionalize childcare systems and place children in foster care instead, creates an urgent demand for building solid and competent foster care systems, including childcare training for foster parents and kinship carers.
A major challenge for most NGO's is to finance, develop and implement training for caregivers teaching them standardized research-based principles and practices of good childcare.
Our Solution
The Fairstart Foundation is currently developing an online instructor course educating people to train groups of foster and kinship parents in high quality childcare. Some of the most important theories concern themes as e.g. how to create strong family values, how to reduce separation anxiety, how to cope with traumatized children and dysfunctional behavior, and how to handle foster children's transition to adulthood.
In order to ensure that the education is widely applicable and relevant the education is based on a range of fundamental principles:
Low-cost implementation and maintenance of the education
User-friendly and easy to implement
All participants are co-designers
Practice-oriented teaching material
Adaption to local cultures ensuring continuous relevance on a global basis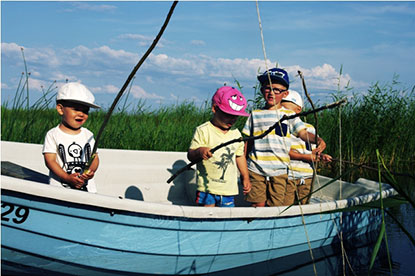 Positive and quick results
Fairstart has several both finished and on-going instructor courses within group care. In less than a year Fairstart instructors have trained caregivers of more than 1500 placed children and youth. The education of instructors and caregivers has shown remarkable progress in the children's social behavior, their trust in caregivers, and in their general well-being. Also, caregivers have become more aware of the children in their care and thus they have become more proud and happy with their jobs. With our new foster care instructor education, our aim is that these positive developments can be transferred to foster care systems worldwide.
Read what other instructors have said here.
Innovative and relevant
The instructor education is tailored to both the individual, who wishes to raise the quality of caregiving, and especially to governments and NGOs who in need of an inexpensive solution that generates positive results both short-term and long-term. Our education is innovative in the sense that the flexibility of the interplay between theory and practice, and the knowledge sharing between instructor and caregiver, makes the overall outcome far greater than other alternatives in the field. The participants are co-creators of the learning-processes, and we continually improve the quality of our education due to the feedback we receive.
Fairstart will launch the new education in the beginning of 2018, and we are excited to welcome more countries to the project so that together we can help children save the world. Read more and sign up here.
If you are curious about a partnership with Fairstart please contact us at info@fairstartfoundation.com. If you need more information about our online educations please click "Certified Instructor Educations" in the top menu bar.