"WE EDUCATE CAREGIVERS OF CHILDREN WITHOUT PARENTS TO SUSTAINABLE LIVING"
"HELP CHILDREN SAVE THE WORLD"
"HELP CHILDREN SAVE THE WORLD"
Challenge no. 1
Families all over the world move into cities trying to cope with work and stress, while struggling to provide for their children. More and more parents are forced to give up. Today, more than 100 million children grow up in institutions, foster care or in the streets!
Challenge no. 2
Many places in the world, caregivers at children's institutions are underpaid, not supported much by local governments, have no access to formal childcare education, and it is not unusual to have few caregivers for a large amount of children, even in foster care (Researched by McCall Groark).
Challenge no. 3
There is a global tendency to close down all children's homes, because foster care and kinship care are believed to be better for the children. But this is only valid if foster parents provide care for only a few children, and if they are trained and supervised regularly.
Children in Fairstart programmes
Number of educated instructors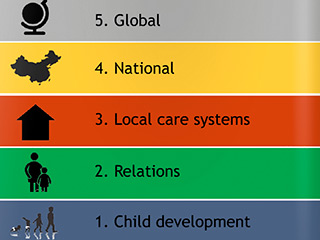 To ensure that our many projects are successfully implemented, we work at five different levels. Read about them here.
Take a look at our free demo. Create a free account with your e-mail, sign in and click "course" or start by watching the video about navigating the platform.